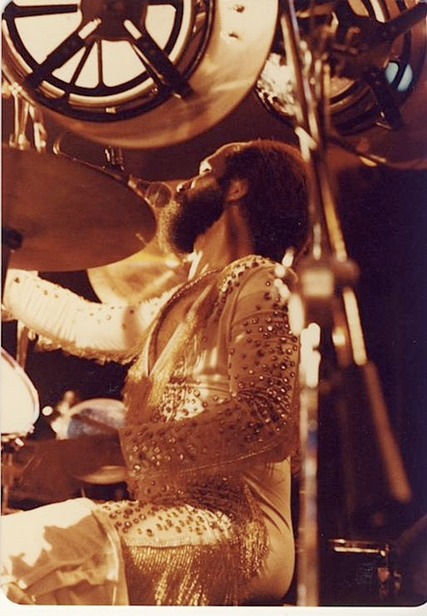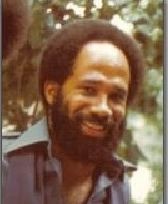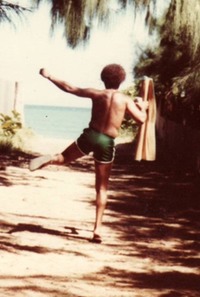 LOUIS ANTHONY "Tony" McCALL was the drummer and founder of Mercury Records recording group, CON FUNK SHUN,  a very popular R&B and funk band during the 1970s and 1980s. The band recorded 11 albums with Mercury, five of them RIAA-certified gold albums.  As drummer and percussionist, Louis provided the "back beat" on numerous Top 40 singles.  He went on to become a successful event producer, promoter, and marketing consultant.  He was murdered on June 25, 1997 during a home invasion robbery in Stone Mountain, Georgia. His wife of over 20 years and the mother of his two children is music industry consultant and songwriter Linda Lou McCall.
Louis was born in Alameda, California on December 28, 1951 to Mary Thelma McCall (née Whitlock) and Emanual K. McCall. Louis, known as "Tony" to his friends and family, was the second of five children born to the couple. His grandmother, Florice Rochon Whitlock was born in New Iberia, LA where the family, Créole farmers, still own a large sugar plantation.
While still a young child, Louis moved with his family to Vallejo, California. His father, a former merchant marine, went into law enforcement and became the first African-American deputy sheriff with the Contra Costa (CA) Sheriff's Department. As a young teenager, Louis started playing drums. He then joined forces with classmate, Michael V. Cooper, to form what would become one of the most popular R&B and funk bands of the 1970s and 1980s, Con Funk Shun.
Con Funk Shun left Vallejo in 1973 to become a studio band at the legendary Stax Records in Memphis, Tennessee. On weekends, the group honed its talent by performing in clubs and at colleges all over the mid-south. Their summers were spent performing in clubs in Tokyo, Japan or at home in the Bay Area.
In 1975, they came to the attention of Mercury Records A&R director, Jud Phillips who signed them to a major recording contract. In January 1976, Louis married Linda Lou Bolden (Linda Lou McCall), whom he had met when she was a publicist at Stax. Later that year, his first album, "Con Funk Shun", was released later that year. It was followed by "Secrets", the first of the group's 5 RIAA-certified gold albums. The group returned home to Vallejo in February 1978. Louis and his wife booked the bands first major tour, opening for Rose Royce and L.T.D. They performed 40 shows from November 1977 until February 1978 where they made their first major performance at the Oakland Coliseum in front of 18,000 people. It was a great homecoming for the band.
Louis recorded a total of 11 albums with the Con Funk Shun which spawned numerous Top 40 and Top Soul Singles, including the "#1 With A Bullet" Billboard Soul charts hit "Ffun". The group's other singles included "Love's Train", "Straight From the Heart", "Chase Me", "I'm Leaving, Baby" and "Shake & Dance With Me". In addition to adding background vocals, Louis co-wrote several songs with his wife, Linda Lou McCall, including the very popular "California 1", "Welcome Back To Love", "Honey Wild", and the Billboard Top 20 R&B Single "Bad Lady". Con Funk Shun continued touring extensively throughout the U.S. well into the 1980s, opening, supporting and headlining for such acts as the O'Jays, Commodores, Teddy Pendergrass, The Bar-Kays, Cameo, The Gap Band, Parliament-Funkadelic, and Rick James. The act also appeared on "Soul Train", "Solid Gold", and Don Kirshner's "Midnight Special". Louis honed his negotiating skills by negotiated some of the band's most lucrative performances, including standing-room only performances at the old Circle Star Theater in San Carlos, CA.
The band's contract with Mercury ended in 1986.  The band ostensibly started shopping for a new record company.  However, both lead singers had been trying to go solo for several years prior so the remaining members decided to take a break for a while and pursue other avenues.  Always the businessman, Louis and Linda Lou formed McCall & Associates Entertainment while living in Gaithersburg, Maryland. The company specialized in artist management and development. In 1990, Louis and Linda Lou relocated their family back to the Oakland, CA area when she became an executive with MC Hammer's record company, Bust It Records.  Louis continued specializing in artist management and music consulting.  He was responsible for putting together the team which designed the sound system in Hammer's multi-million Fremont home. He also produced a successful  1992 benefit show at San Francisco's prestigious Fairmont Hotel for actors Danny Glover and Harry Belafonte. He had such renowned artists as Dionne Warwick and Sinbad performing, and the guest list included Hollywood actors like Kevin Costner, Howard Hessman, and Gary Busey.
In 1994, he and Linda Lou relocated to the Atlanta, Georgia area. There, Louis became the head of the Rhyme Scene Unit, which specialized in street promotion for urban and rap artists in the Atlanta area. The company is a division of The Entertainment Qartel, Inc. (EQartel) formed by Linda Lou in 1992 after the demise of Hammer's music empire. Her streets team were instrumental in the success of the debut albums of R&B songstress Mya, the Black-Eyed Peas, and superstar rapper Eminem. Other clients included Puff Daddy, Notorious B.I.G., Jay-Z, DMX, Ruff Ryders, Faith Evans, Eve, TLC, Usher and Mase.
Louis and Linda Lou had moved to the South from Los Angeles in search of a safer place to raise their two children. However, in a tragic and ironic twist of fate, Linda Lou got a call shortly before midnight on June 25, 1997 stating that Louis may have been shot during robbery at the Stone Mountain apartment of an acquaintance. Frantic and not knowing what else to do, Linda Lou contacted her friend Amahl Lipkins, then a DeKalb County Senior Crime Scene Investigator, for help. Lipkins went down to the Dekalb County Police Department to find out what he could. An hour later he called her from the morgue. He had made the official identification for her, so that she could use all the strength she could muster to tell their children about the loss of their father. It was just 13 days after Louis' daughter graduated from high school.
Louis' murder remained unsolved for almost 10 years. During that time, Linda Lou has been diligent in her efforts to get the case to trial. She had the case reopened three times, one time after she contacted the Georgia Governor's office complaining about the need for a cold case unit in the states second largest county. DeKalb County has had several major law enforcement agency management upheavals in the years since Louis' death, due in part to still ongoing allegations of corruption which came to national attention following the murder of a newly elected sheriff Derwin Brown orchestrated by his predecessor, Sidney Dorsey in December 2000. For nearly a decade, Linda Lou complained that the only communication she had from DeKalb County in her husband's death was a sympathy card from Dorsey, now serving a life sentence plus 23 years for murder, racketeering and violation of oath of office. However, a new District Attorney, Gwen Keyes Fleming, sworn into office in 2004, believed that the case could be solved based on the dedicated investigation of DeKalb County police detective Lt. Brian Harris, who has worked on the case since 1999.

Finally, on January 18, 2007, a Dekalb County grand jury indicted a 28 year-old man in the murder. In July 2007 the case finally went to court, only to have the judge declare a mistrial just a few hours after jury deliberation started.  When asked by the prosecutor what were the wishes of the family, Linda Lou told him not to retry the case, just let the suspect go until the State of Georgia had a better case to present.  Then she and her children decided that they had had enough with the inept and uncaring Dekalb County law enforcement agencies.  "Louis would have wanted us to get on with our lives." she stated.  "He knows that I put all I had into frying to get justice for him. " 
The songs of Con Funk Shun and those written by Louis are still being played today. In addition to recent "Greatest Hits" and "Best of Con Funk Shun" releases, Louis' songs are being sampled by many contemporary artists. Several Con Funk Shun standards have been featured in such full-length movies as "Gone In 60 Seconds" (2000), "Next Friday", and "American Pimp" (1999) which, ironically, featured his childhood best friend John "Rosebudd" Dickson.  In June 2007, a song co-written by Louis, Linda Lou and Con Funk Shun keyboardist Danny Thomas was sampled for one of the cuts on rapper Lil Wayne's highly successful and Grammy-nominated CD, "Tha Carter 3".  Linda Lou has also produced a cover version of "California 1", first recorded by Con Funk Shun for their "7" LP.  The song will be used during a memorial service planned to finally scatter Louis' ashes in the Pacific Ocean, near California Hightway 1.
His most lasting legacy are his two children with Linda Lou and his son from another relationship. Only in their teens when their father was taken so violently from them, they are now grown up, working in fields not related to entertainment.  Intensely private and extremely close to their mother and stepmother, all of his three children are very successful, articulate, and well-adjusted young people.   On March 2, 2014, his only daughter gave birth to Louis' first grandchild, a healthy handsome baby boy, in Scottsdale, Arizona.  
Louis received another unexpected honor in April 2014.  The City of Alameda Planning Board approved 16 new street names for Alameda Landing. Louis' name is among those chosen.  The names will now go to the Historic Advisory Board for adoption onto the approved list of street names and become final with their vote.  Louis' name was initially submitted by Karelia Software founder Dan Wood, creator of "Sandvox" - THIS website design software!  Dan was such a help to us in getting this website designed and published in 2007.  A resident of Alameda, Dan remembered that Louis was born in that city after months of assisting with this site.  As a result, when names were requested for consideration for the new housing complex, Alameda Landing, Dan submitted Louis' name.  
In addition, Louis and Con Funk Shun will be honored by the National R&B Music Society Inc. (NRBMS) with a "Lifetime Achievement Award" on September 21, 2014 at its 4th Annual Black Tie Dinner & Award Ceremony in Atlantic City.  At the same event, Linda Lou McCall will be given the "Unsung Heroine" Award (along with recording artists Jean Carne and Meli'sa Morgan) for her work behind the scenes for artists for over 4 decades - from The Delfonics to Con Funk Shun, from MC Hammer to Eminem.
=========================================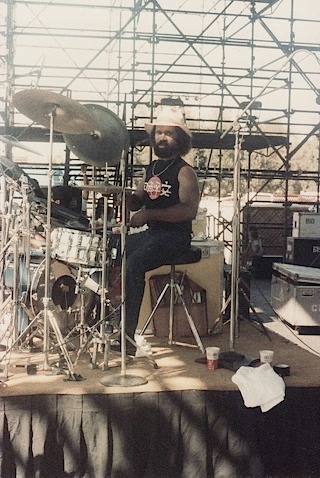 Warming up prior to a gig in 1985
© 2008 Exxtra Foxx Music LLC

=========================================
DISCOGRAPHY

Albums
The Memphis Sessions  (1973)

Organized Con Funk Shun  (1973)

Con Funk Shun  (1976)

Secrets  (1977)

Loveshine (1978)

Candy  (1979)

Spirit of Love  (1980)

Touch   (1980)

7  (1981)

To The Max   (1982)

Fever  (1983)

Electric Lady  (1985)

Burning Love   (1986)

The Best of Con Funk Shun  (1993)

Ffun  (1994)

Live for Ya Ass  (1996)

The Best of Con Funk Shun, Vol. 2  (1996)

Con Funk Shun - Greatest Hits''' (1998)

Con Funk Shun - The Ballads Collection  (1998)

The Best Of Con Funk Shun - The Millennium Collection   (2002)

Con Funk Shun - The Collection (2002)

Con Funk Shun - The Definitive CD (2006)

Loveshine & Candy - Double CD (2010)

Touch & 7 & To The Max - Triple CD (2011)

Con Funk Shun & Secrets - Double CD (2013)


Hit Singles
"

Sho Feels Good To Me" (1977) - #66 Black Singles

"Confunkshunizeya" (1978) - #31 Black Singles

"Ffun" (1978) - #1 Black Singles, #23 Pop

"Shake And Dance With Me" (1978) - #5 Black Singles, #60 Pop Singles

"So Easy" (1978) - #28 Black Singles

"(Let Me Put) Love on Your Mind" (1979) - #24 Black Singles

"Chase Me" (1979) - #4 Black Singles

"Da Lady" (1980) - #60 Black Singles

"By Your Side" (1980) - #27 Black Singles

"Got To Be Enough" (1980) - #8 Black Singles, #20 Club Play

"Happy Face" (1980) - #87 Black Singles

"Bad Lady" (1981) - #19 Black Singles

"Lady's Wild" (1981) - #42 Black Singles

"Too Tight" (1981) - #8 Black Singles, #40 Pop Singles, #25 Club Play

"Ain't Nobody, Baby" (1982) - #31 Black Singles

"Straight From The Heart" (1982) - #79 Black Singles

"Ms. Got-The-Body (1983) - #15 Black Singles

"Love's Train/You Are The One" (1983) - #47 Black Singles

"Don't Let Your Love Grow Cold" (1984)- #33 Hot R&B

"Electric Lady" (1985) - #4 Hot R&B, #32 Hot Dance

"I'm Leaving Baby" (1985) - #12 Hot R&B

"Tell Me What You're Gonna Do" (1985) - #47 Hot R&B

"Burnin' Love" (1986) - #8 Hot R&B

"She's a Star" (1986) - #80 Hot R&B

"Kush" (2008") - a sample of "Honey Wild", done by Lil Wayne for "Tha Carter 3"
(Chart positions compiled by Exxtra Foxx Music LLC from Billboard magazine's Top Pop and R&B Charts)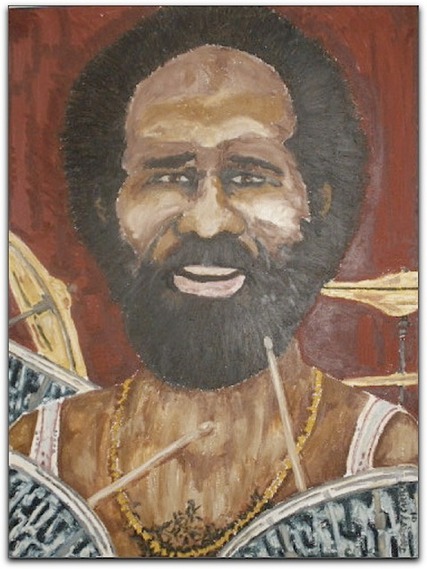 Painting by Jeffery Carter Kelling
4' x 5' acrylic on canvas
© 2001 Linda Lou McCall